The Best DAW Software for Audio Interfaces & How to Use It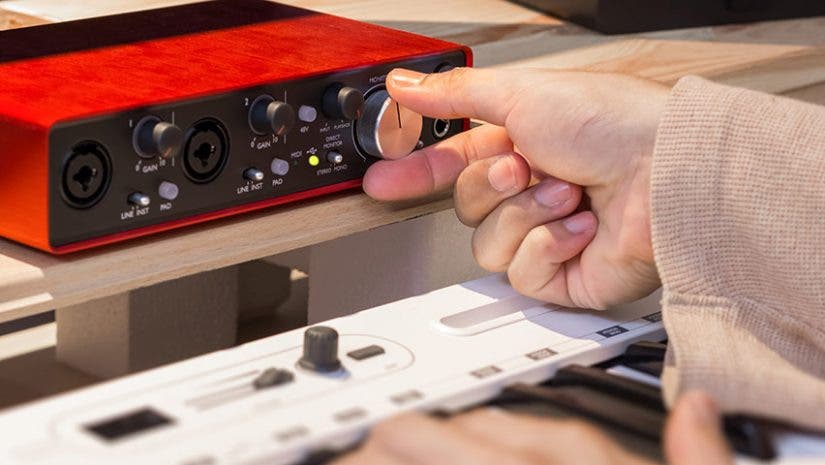 As a working professional, I am often asked, what interface should I buy? As a starting point, you need to look at what suits you as a musician, podcaster, audiophile, or audio professional. Each discipline has many facets, some common, and others a world away from each other. But my recommendation is that you should buy the best that you can afford and give yourself as much "future proofing" as you are able to.
Thankfully, brands have bundled audio interfaces with digital audio workstations (DAWs) into a two-in-one package.
Here are the top-rated ones that will get you started on your audio production work now:
The Best DAW Software & How to Use It:

Behringer Tracktion 4:

If budget is a consideration, then you might look at the Behringer range of audio interfaces. This includes the U-Phoria range, which starts with the UM 2, a basic interface with two ins and two outs and no MIDI, and ranges up to the UMC404HD, which has four ins and four outs and MIDI connectivity, as well.
This offers a lot of scope for anyone wanting to get sound in and out of a computer. They are basic machines that come with additional recording software, Tracktion 4. It is a good piece of software that will be very beneficial to you when trying to get your head around multitrack recording. You can learn the functions of an audio track and setting up a few more tracks, a bit of recording and mixing, and it has simple and effective input/output configurations.
Tracktion 4 is packed with top-notch production tools for musicians, composers, and songwriters. This intuitive, single-screen software not only has the same critically acclaimed Rack Filters paradigm but is also now free of charge and supports the loading of video files.
Behringer audio interfaces bundled with the Tracktion 4:

Behringer U-Phoria UM 2 Audiophile 2×2 USB Audio Interface with XENYX Mic Preamplifier ($39.99)

Behringer U-Phoria UMC 22 Audiophile 2×2 USB Audio Interface with MIDAS Mic Preamplifier ($58.99)

Behringer U-Phoria UMC202HD Audiophile 2×2 USB Audio Interface with MIDAS Mic Preamplifiers ($80.91)

Behringer U-PHORIA UMC404HD – USB 2.0 Audio/MIDI Interface ($149.99)


How to Use Tracktion 4:

Tracktion 4 is easy to use and its single-screen UI can be optimized for a super fast audio production workflow. With a few simple steps, you can start making music for free right away:
Visit the Tracktion website and download the installer or register your Behringer unit to get a free license for the Tracktion 4. The freeware tool is compatible with virtually any OS, making it possible for people to collaborate on audio projects using any device.

Activate your account, scan your VST plug-ins folder, and start working on your first project.

Tracktion 4 can support both hardware and software instruments. Connect your MIDI or USB controllers, microphones, and other instruments to the IN and OUT of your audio interface and follow the installation procedure. Click on the devices in Tracktion 4's input list and start recording.

Read the Tracktion 4 user manual to learn about the ins and outs of this freeware tool.
Focusrite Pro Tools:

Should you be more advanced in your abilities or understanding of DAWs and multitracking recording, then you might want to further yourself both in upgrading your interface and DAW. Focusrite has a series of Scarlett USB interfaces perfect for audio functions. The series ranges from the Solo 2nd Gen to the very competent 2i4 2nd Gen two-in and four-out and MIDI. The Focusrite interface has been a feature of many studios around the world for decades.
The Scarlett range come with a free version of Pro Tools — Pro Tools | First — the mainstay in thousands of studios around the world. Pro Tools | First is basic version of the professional version, and you get 16 tracks of both audio and MIDI recording and mixing with over 20 plugins. When you buy the 2i4 2nd Gen, you will also get the Focusrite Creative Pack, which is a further bundle of creative plugins, and Ableton Live Lite, a separate type of DAW that has a different workflow and mainly directed at musicians.
With online space to store your projects, Pro Tools | First is an introduction to a professional DAW that is used not only in music circles but also for film and broadcast. Even if you do not have the Focusrite interface it will work with any ASIO-compatible interface.
Get an exclusive version of Pro Tools and other helpful software if you buy the First Focusrite Creative Pack. Aside from getting the Scarlett Audio Interface, you'll also get to start recording studio audio quality wherever you go.
FocusRite audio interfaces bundled with Avid Pro Tools:

Focusrite Scarlett Solo 2nd Gen 2 Input/2 Output USB 2.0 Audio Interface ($109.99)

Focusrite Scarlett 2i2 2nd Gen 2 Input/2 Output USB 2.0 Audio Interface ($159.99)

Focusrite Scarlett 2i4 2nd Gen 2 Input/4 Output USB 2.0 Audio Interface ($179.99)
How to Use Pro Tools:

Pro Tools is simple enough to help you build your skills and complex enough to take your final outputs up a notch. There's a reason why it has become a standard tool in modern sound production. Follow these steps to get started:
Visit the Avid website and choose the version you wish to download or register your Focusrite Scarlett unit to get a free license for an exclusive version of Pro Tools | First.

Install the software on your computer and activate your account. The First Focusrite Creative Pack already comes with 12 additional plug-ins on top of the native plug-ins, enough to get you started. But if you already have your own VST plug-in folder, simply scan it and it will integrate with your DAW.

Pro Tools supports a vast number of hardware and software instruments. Connect your MIDI or USB controllers, microphones, and other hardware to the IN and OUT of your Scarlett audio engine and configure it to work on your Pro Tools via the Setup Menu. Select the devices in the input list and start your audio project.

For more detailed information on setting up and configuring your Pro Tools, visit Avid's tutorial page. Check out the video below if you want a quick start to building a session from scratch:
Get Started Fast with Pro Tools
PreSonus Studio One 3:

Presonus produces quality products at a really good price, and there are three standouts. First is the AudioBox 96, which is a basic interface but you do get MIDI connectivity, as well, which would suit a lot of artists. The iTwo has two ins and two outs and you get MIDI connectivity. The neat thing about this interface is that it connects all of that up to an iOS device, as well as any standard computer. Finally, if you are looking for quality, then look at the Presonus Studio 24C, a really lovely machine that has 2×2 and MIDI but with high quality preamps and recording up to 192kHz.
Presonus has developed their own DAW and sequencer for music creation. The version that comes with their interfaces is Studio One. When I first saw this, I was very pleasantly surprised. After installing, I was faced with a real sequencer with lots of effects, instruments, video playback, and best of all, a drag and drop interface.
You might be asking, what's that? As a person starting out in the world of DAWs, there is a lot of stress in figuring out how to set up tracks and how to route them correctly. It can get in the way of your creative mojo. With Studio One, you can grab your effects or instruments and just drop them onto the workspace and the software does all the hard work for you. Studio One comes with its own shop so you can build up your sequencer to a fully fledged powerhouse with more extensions, plugins, instruments, and even loops and sound effects. Start small and grow at your pace.
Whether you're in a fully-equipped studio, at home, or on the road, the interface-plus-software combo ensures you don't stop creating audio at unparalleled quality.
PreSonus audio interfaces bundled with Studio One 3:

PreSonus AudioBox 96 USB 2.0 Audio Recording System ($99.95)

PreSonus Studio 24c 2×2 Portable Ultra-High Definition USB Type-C Audio/MIDI Interface with XMAX-L Preamps ($149.95)

PreSonus AudioBox iTwo 2×2 USB 2.0 / iPad / MIDI Recording Interface with 2 Mic Inputs ($149.95)
How to Use the PreSonus Studio One:

While Studio One is a beginner-friendly tool, it is primarily built for professionals and artists.
Studio One supports a vast number of music production hardware. Connect your AudioBox to your computer's USB port, then plug in your keyboard controllers, microphones, guitar, or other instruments to your audio engine and set them up in Studio One.
On the start page, click "Create a New Song." Create an empty song. If you have a Presonus interface, you can select it from the list of ready-made templates.

Select your audio interface from the options menu by going to Options > Audio Setup and selecting the correct soundcard or audio interface from the "Audio Devices List." After this, you can start adding tracks to your song.

Check out this introductory video below: